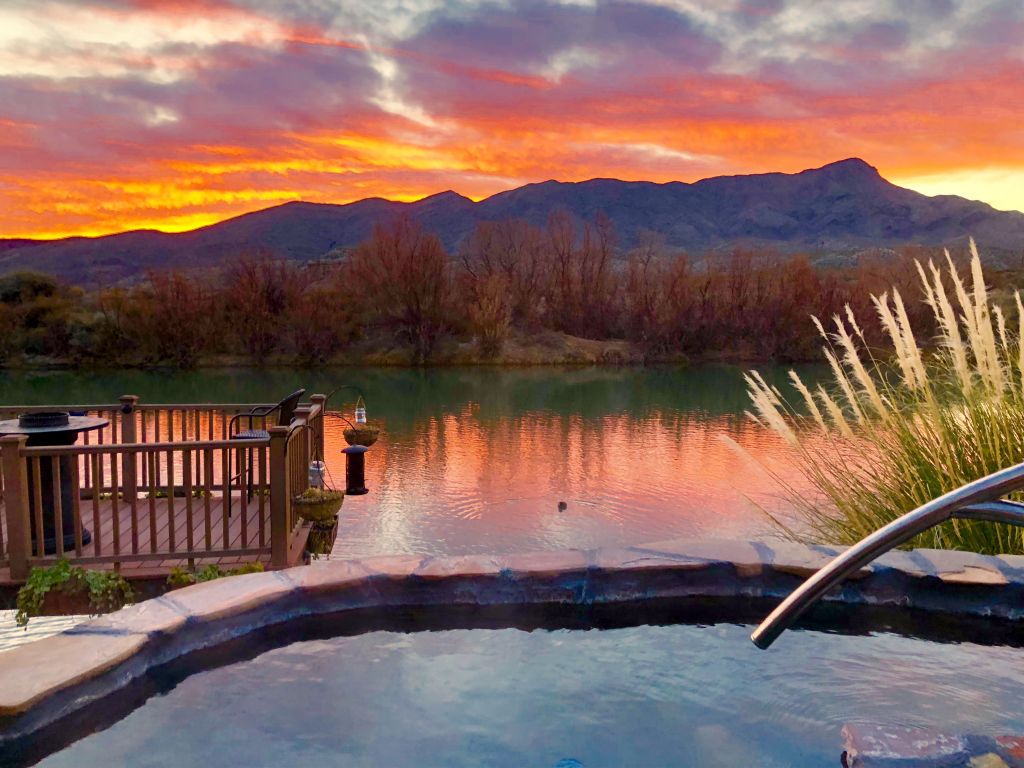 Big announcement and GIVEAWAY time!
We're expanding our hours and will now be opening every day at 7 AM starting March 7th!
FOLLOW US, LIKE and COMMENT on this post, and RECOMMEND us on our Review Tab to be entered into a random drawing for a $50 Gift Certificate! The winner will be announced sometime after 10am on 3/8/2022.
Finally, you can enjoy our riverside hot springs during a magical sunrise! To celebrate this new 7 AM soaking session, we're launching our Early Bird Special for 1/2 OFF 7AM, 8AM and 9AM soaks on Mondays-Thursdays in March and April.
Review link and full sweepstakes rules in the comments. Good luck and Soak you Soon!
Official Rules: 1. This sweepstakes is sponsored by Riverbend Hot Springs "sponsor" only and is in no way sponsored, endorsed or administered by, or associated with, Facebook. 2. Sweeptakes entry period is from 8am on 2/28/22 to 10am on 3/8/22. 3. One winner will be randomly chosen based on a drawing using a numbered list of entrants and a winning number picked using random.org 4. No purchase necessary. To enter, you must follow Riverbend Hot Springs' Facebook page, like (react) and comment on the giveaway post and recommend us on our Facebook review tab (https://www.facebook.com/riverbendhotsprings/reviews/). If you had already recommended us in the past, that qualifies 5. The sweepstakes is open to legal residents of their respective countries where not prohibited by law, who are eighteen (18) years of age or older at the time of entry who have Internet access and a valid E-mail address prior to the beginning of the Contest Period. Riverbend has the right to verify the eligibility of each entrant. 6. Prize is a digital Gift Certificate for the value of $50 to be used toward soaking or lodging at Riverbend Hot Springs with an expiration date of one year after activation. 7. Upon selecting the random winner, Riverbend will respond to the entrant's comment to announce their winning status and it is the entrant's responsibility to write Riverbend via private message or email with entrant's email address for delivery of the gift certificate. 8. Terms and conditions may apply. Incidental expenses and all other costs and expenses which are not specifically listed as part of a prize in these Official Rules and which may be associated with the award, acceptance, receipt and use of all or any portion of the awarded prize are solely the responsibility of the respective prize winner. ALL FEDERAL, STATE AND LOCAL TAXES ASSOCIATED WITH THE RECEIPT OR USE OF ANY PRIZE IS SOLELY THE RESPONSIBILITY OF THE WINNER.
ADDITIONAL LIMITATIONS
Prize is non-transferable. No substitution or cash equivalent of prizes is permitted. Sponsor and its respective parent, affiliate and subsidiary companies, agents, and representatives are not responsible for any typographical or other errors in the offer or administration of the Sweepstakes, including, but not limited to, errors in any printing or posting or these Official Rules, the selection and announcement of any winner, or the distribution of any prize. Any attempt to damage the content or operation of this Sweepstakes is unlawful and subject to possible legal action by Sponsor. Sponsor reserves the right to terminate, suspend or amend the Sweepstakes, without notice, and for any reason, including, without limitation, if Sponsor determines that the Sweepstakes cannot be conducted as planned or should a virus, bug, tampering or unauthorized intervention, technical failure or other cause beyond Sponsor's control corrupt the administration, security, fairness, integrity or proper play of the Sweepstakes. In the event any tampering or unauthorized intervention may have occurred, Sponsor reserves the right to void suspect entries at issue. Sponsor and its respective parent, affiliate and subsidiary companies, agents, and representatives, and any telephone network or service providers, are not responsible for incorrect or inaccurate transcription of entry information, or for any human error, technical malfunction, lost or delayed data transmission, omission, interruption, deletion, line failure or malfunction of any telephone network, computer equipment or software, the inability to access any website or online service or any other error, human or otherwise.
INDEMNIFICATION AND LIMITATION OF LIABILITY
BY ENTERING THE SWEEPSTAKES, EACH ENTRANT AGREES TO INDEMNIFY, RELEASE AND HOLD HARMLESS SPONSOR AND ITS PARENT, AFFILIATE AND SUBSIDIARY COMPANIES, THE FACEBOOK PLATFORM, ADMINISTRATOR, ADVERTISING AND PROMOTIONAL AGENCIES, AND ALL THEIR RESPECTIVE OFFICERS, DIRECTORS, EMPLOYEES, REPRESENTATIVES AND AGENTS FROM ANY LIABILITY, DAMAGES, LOSSES OR INJURY RESULTING IN WHOLE OR IN PART, DIRECTLY OR INDIRECTLY, FROM THAT ENTRANT'S PARTICIPATION IN THE SWEEPSTAKES AND THE ACCEPTANCE, USE OR MISUSE OF ANY PRIZE THAT MAY BE WON. SPONSOR AND ITS PARENT, AFFILIATE AND SUBSIDIARY COMPANIES DO NOT MAKE ANY WARRANTIES, EXPRESS OR IMPLIED, AS TO THE CONDITION, FITNESS OR MERCHANTABILITY OF THE PRIZE. SPONSOR AND ITS PARENTS, SUBSIDIARIES, AFFILIATES, ADVERTISING AND PROMOTIONAL AGENCIES, AND ALL THEIR RESPECTIVE OFFICERS, DIRECTORS, EMPLOYEES, REPRESENTATIVES AND AGENTS DISCLAIM ANY LIABILITY FOR DAMAGE TO ANY COMPUTER SYSTEM RESULTING FROM ACCESS TO OR THE DOWNLOAD OF INFORMATION OR MATERIALS CONNECTED WITH THE SWEEPSTAKES.
This sweepstakes is sponsored by:
Riverbend Hot Springs
100 Austin
Truth or Consequences, NM 87901
Any questions regarding this sweepstakes should be directed to Riverbend Hot Springs at sweepstakes@riverbendhotsprings.com
Good luck!