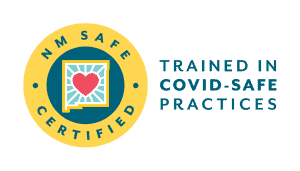 In a nut shell:
We are open by reservation only at limited capacities. Book Private Soaks or Lodging by phone or here and book the Property Pass (Common Pools) by phone only.
There are no towel or robe rentals and showers are closed.
Masks are required throughout the entire property except in private quarters and in the pools themselves.
The office, sauna, showers/changing stalls, grill, ice machine, drinking fountains, outdoor kitchen are all closed by NM State Health order.
See below for more details about closures, occupancy and policies.
See your confirmation email for check in procedures.
Current Phase 1 Operations. LATEST 3/29/2021
All information below is subject to change at any time and is tentative based on the current public health orders from the state. All of the changes below are due to direct orders from NM State as a condition to reopen. We will return to normal as we are allowed to and based on changes to the extensive state rules (known as Covid Safe Practices). Stay tuned to this page, as the below operations are subject to change at anytime without notice.
Cleanliness/PPE

All staff will be wearing masks during limited in person encounters with guests.
Per the latest NM State public health order, guests are now required to wear face covering when in public (NOT hotel rooms, your RV,  or inside Pools) so that would apply at our Common areas. We will have signs and will be reminding guests. There is now a fine involved so we will not be servicing folks who arrive without masks.
Hand washing sinks will be available to all guests in restrooms and outdoor kitchen and hand sanitizer will be available by the office.
All commonly touched surfaces will be disinfected by staff on an hourly basis. This includes all door handles, locks, light switches and handrails.
Hotel rooms. Touched surfaces are all being disinfected upon checkout. All bedding is replaced with each checkout. Room air is treated with an ozone generator before check in.

Hot Springs

Common Pools

Open for overnight guest use at very limited pool occupancy during normal pool hours.
Open to the public for the One hour Property Pass between by phone reservations only at very limited occupancy. No walk ins.  (575) 894-7625 to book
Pools are first come first served as they always have been. There is no guarantee that you will be able to soak in the pool/temperature of your choice or that you will get a pool to yourself.
Our overall occupancy for the hot springs is currently 75%. If you are not yet comfortable soaking within six feet other mask-less guests, please consider renting a Private Pool.
Guests must stay together and occupy no more than one pool at a time.

Private Pools

Available to rent for 50 minute sessions by overnight guests or the public by reservations only at limited occupancy
No walk ins. (575) 894-7625  or click here to book
Private Pools will be limited to parties no larger than 6 people. Most pools are 4 people max. Call us to book 6 people only in Apache or Navajo by special exception.
Double sessions may not possible due to staggered sessions but triple sessions are possible.
No need to come 30 minutes early since office and showers are closed. Please come pre-showered and with your own towels and water arrive 10 minutes early and report straight to the gazebo waiting area.

Ambiance

The Whisper Policy will stay in effect in the Private Pools and be heavily enforced. Those that do not whisper will be given one courtesy warning and then asked to leave immediately and banned from future visits on the second occurrence.
Due to social distancing and the minimization of guest/staff interaction, the Common Pools no longer have a Whisper Policy. We ask that guests still respect each other's peace and keep voice volume low. Those that want quiet are encouraged to rent a Private Pool.

Previous specials and discounts are all suspended at beginning of Phase 1. If any discounts start coming back, they will be listed on the Discounts and Specials section of our Hot Springs or Rooms pages
Hot Springs and Covid-19

Though there is no evidence that viruses can be transmitted via water, we must inform you that our natural hot springs water is not and will not be chlorinated.
Guests might avoid putting their heads under the water or touching their faces while soaking, just in case.
There is always a risk associated with leaving your home. We are here to welcome you when you are ready to take that risk.

Closures

Office. Closed to walk ins and all guests. No towel or robe rentals. Guests must book in advance, bring their own towels. Beverages are available via contactless (intercom) purchase or you may bring your own (just remember: no glass, alcohol or food allowed near pools)
Showers. Restrooms will remain open for sink and toilet use at very limited occupancy (2 people per restroom) so please shower in your hotel room, RV or your home before coming to soak.
Shared amenities will be close during phase 1: Sauna, drinking fountains, coffee bar, ice machine, grill, and hotel guest towel closet.

Overnight guests

Hotel Guests

Stay over (daily) housekeeping is suspended during Phase 1. We cannot enter a room that is currently occupied by guests or their belongings. Spa towels will be provided in each room since the towel closet and hampers are closed and should be dried on hooks and reused along with your robes.
If amenity replenishment is needed throughout your stay (coffee, TP, etc…) please text the front desk.
Hair dryers and Irons/Ironing Boards have been removed from rooms but available by request.

RV Guests

RV guests must use their own towels and robes since rentals are suspended.

Early/Late Check In/Out is not available due to the limited pool occupancy and extra cleaning.
Check in and out will be contact-less and via text and phone
Occupancy will be limited, depending on current state orders.
Reservations can be taken now by phone or online.
Phase 2 details and dates to be determined.