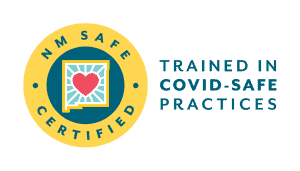 Current Phase 1 Operations. LATEST 12/2/20
All information below is subject to change at any time and is tentative based on the current public health orders from the state. All of the changes below are due to direct orders from NM State as a condition to reopen. We will return to normal as we are allowed to and based on changes to the extensive state rules (known as Covid Safe Practices). Stay tuned to this page, as the below operations are subject to change at anytime without notice.
Out of state visitors

Please be aware the current State Health Orders require all visitors from out of state to self-quarantine for either 14 days or the duration of their stay in New Mexico (whichever period is shorter). Businesses are not being asked to enforce this order on behalf of the state but we are required to inform you of the order. Here is a link to the full order: https://cv.nmhealth.org/wp-content/uploads/2020/07/Executive-Order-2020-054-2.pdf

Cleanliness/PPE

All staff will be wearing masks during limited in person encounters with guests.
Per the latest NM State public health order, guests are now required to wear face covering when in public (NOT hotel rooms, your RV,  or inside Pools) so that would apply at our Common areas. We will have signs and will be reminding guests. There is now a fine involved so we will not be servicing folks who arrive without masks.
Hand washing sinks will be available to all guests in restrooms and outdoor kitchen and hand sanitizer will be available by the office.
All commonly touched surfaces will be disinfected by staff on an hourly basis. This includes all door handles, locks, light switches and handrails.
Hotel rooms. Touched surfaces are all being disinfected upon checkout. All bedding is replaced with each checkout. Room air is treated with an ozone generator before check in.

Hot Springs

Common Pools

Open for overnight guest use at very limited pool occupancy during normal pool hours.
Open to the public for the One hour Property Pass between by phone reservations only at very limited occupancy. No walk ins.  (575) 894-7625 to book
Common Pools will be limited to one party (household) per pool, except Sierra, which will be limited to 3 parties. (Sierra may be limited by staff to less than 3 parties at any time if party sizes are larger than 2 people)
Due to current health orders, groups over 5 will not be allowed in common pools in phase 1. All parties must be between 1-5 people. 
There is no longer a singles rate. 1 or 2 guests pay the base rate of $24 (Mon-Thurs) or $30 (Fri-Sun)

Private Pools

Available to rent for 50 minute sessions by overnight guests or the public by reservations only at very limited occupancy
No walk ins. (575) 894-7625  or click here to book
Private Pools will be limited to parties no larger than 5 people. Singles ok. Most pools are 4 people max. Call us to book 5 people only in Apache or Navajo by special exception.
Double sessions may not possible due to staggered sessions but triple sessions are possible.
No need to come 15-30 minutes early since office and showers are closed. Please come pre-showered and with your own towels and water arrive 5-10 minutes early and report straight to the waiting area.

Occupancy and Social Distancing

Waiting area. Guests are asked to respect each other's space and use all the available space around the gazebo to maintain at least 6 feet between parties. Waiting for your Private Pool in your car is an option as long as you can be at the waiting area by 5 till the hour.
Common grounds. Chairs have been removed and guests are asked to stay at least 6 feet from other parties.
Due to minimization of staff/guest interaction, these occupancy limitations in common areas will be self enforced. There will be signs posted at each pool. If someone comes too close to you, walk away or respectfully inform them of the occupancy limit of the pool.

Ambiance

The Whisper Policy will stay in effect in the Private Pools and be heavily enforced. Those that do not whisper will be given one courtesy warning and then asked to leave immediately and banned from future visits on the second occurrence.
Due to social distancing and the minimization of guest/staff interaction, the Common Pools no longer have a Whisper Policy in effect. We ask that guests still respect each other's peace and keep voice volume low. Those that need quiet are encouraged to rent a Private Pool. Please be aware that there might be some light construction and associated noise still being finished around the Common Pools during Phase 1.

Previous specials and discounts are all suspended at beginning of Phase 1. If any discounts start coming back, they will be listed on the Discounts and Specials section of our Hot Springs or Rooms pages
Hot Springs and Covid-19

Though there is no evidence that viruses can be transmitted via water, we must inform you that our natural hot springs water is not and will not be chlorinated.
Guests should avoid putting their heads under the water or touching their faces while soaking, just in case.
Masks, social distancing and the constant sterilization of touched surfaces will drastically minimize the spread of any virus that could be present but there is always a risk associated with leaving your home. We are here to welcome you when you are ready to take that risk.

Closures

Office. Closed to walk ins and all guests. No retail sales. No towel or robe rentals. Guests must book in advance, bring their own towels and beverages and check-in will be contact-less via email, phone and text.
Showers. Restrooms will remain open for sink and toilet use at very limited occupancy (2 people per restroom) so please shower in your hotel room, RV or your home before coming to soak.
Shared amenities will be close during phase 1: Sauna, drinking fountains, coffee bar, ice machine, grill, and hotel guest towel closet.

Overnight guests

Hotel Guests

Stay over (daily) housekeeping is suspended during Phase 1. Spa towels will be provided in each room since the towel closet and hampers are closed and should be dried on hooks and reused along with your robes.
If amenity replenishment is needed throughout your stay (coffee, TP, etc…) please text the front desk.

RV Guests

RV guests must use their own towels and robes since rentals are suspended.

Early/Late Check In/Out is not available due to the limited pool occupancy and extra cleaning.
Check in and out will be contact-less and via text and phone
Occupancy will be limited, depending on current state orders.
Reservations can be taken now by phone or online.
Phase 2 details and dates to be determined.